Philips presented in this year's Computex, Philips Two-in-One (19DP6QJNS model), a monitor which redefines the concept of multitasking, as it combines two different screens on a common basis and giving the user an ergonomic design and much convenience.
The Philips Two-in-One Monitor is consisted of two different IPS LCD displays of 19-inch, which work independently. Those monitors are almost together, creating a beautiful panoramic screen. The interesting fact of this product is that users can connect either a PC (which lengthen substantially the working area) or two separate PCs (or even a game console and a PC), which simply means that users will save too much free space in their office. As regards to the available ports the left monitor will have a DisplayPort and a VGA input, while the other will also include a VGA and HDMI. Also, the Two-in-One Monitor will include four USB 2.0 ports. The Two-in-One monitor by Philips will provide resolution of 1280×1024 pixels with a refresh rate up to 60Hz.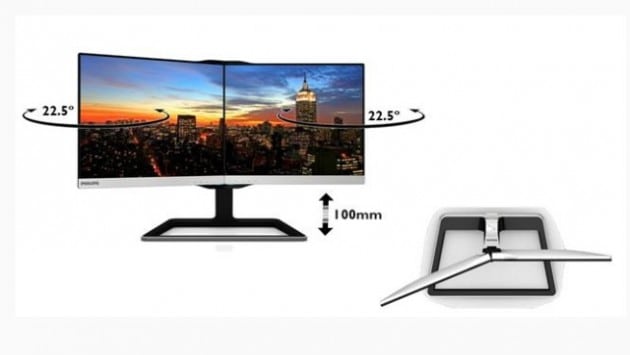 The Two-in-One Monitor won the prize for the most innovative product at this year's Computex, as its originality and its handy character won the interest of experts and public. Philips has not announced so far the value of the Two-in-One, but we know, it will be released this autumn. We look forward to take in our hands the innovative monitor by Philips!