A city and a life-long dream of a journey. New York is the prettiest city in the world, for many, with its trademark skyline, which inspired many to create wonderful things.
Tim Sklyarov is one of those people, and his aerial shots of the "Big Apple" are breathtaking. These are wonderful stills of Manhattan and nearby areas, better highlighted when viewed from above.
If you like them so much, Tim enables you to buy his photos as a canvas, as well as download them in HD resolution (1920×1080 pixels), for your personal use only.
In any case, you can enjoy them in web resolution and dream once more of the metropolis one does not forget easily once they visit it.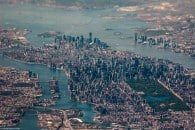 Source : Tim Sklyarov