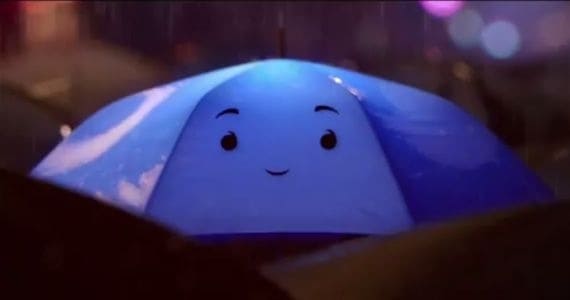 Perhaps the only thing as good as (or better than) new Pixar movies are the wonderful short films that precede them, don't you agree? Not only are they great examples of short-form storytelling, but they also help to highlight some of the vast talent working behind the scenes at Pixar.
This is definitely the case with The Blue Umbrella, a new Pixar short film that will appear before this summer's Monsters University. In it, a blue umbrella falls in love with a red umbrella and a lot of wonderful things happen along the way.
This short film breaks new ground for Pixar, using special effects techniques that the company hadn't used previously used to create a photorealistic animation style. One of the most impressive animations effects used in the film is called "deep compositing," in which "a scene is created by layering images with three-dimensional data, instead of flat, two-dimensional data, giving the filmmakers greater control over the look of the film and viewers the experience of greater depth of field." Pixar is using both of these techniques in Monsters University.
Have a look at the short clip that follows below and share you thoughts with us. I bet you'll be amazed…