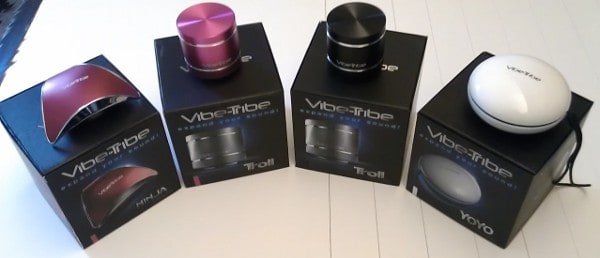 We have been testing the new Vibe-Tribe portable speakers, and we have been really impressed! Thanks to an innovative technology, initially developed by the US Navy for military use in submarines and only recently made available for civil purposes, the Vibe-Tribe speakers offer also a sophisticated design and a strong built quality, to guarantee amazing performances and to look very good on your desktop or elsewhere. Let's see them in more detail.

The concept is pretty easy but at the same time very ingenious: if you think of a regular speaker, it is made of a membrane that converts an electromagnetic input into vibrations, which are then transformed into sound through a harmonic cage built around it. However, the sound is very directional, and moving around the speaker may change completely the listening experience.
The Vibe-Tribe speakers can be considered the evolution of regular speakers. They also generate a vibration from the input signal, but instead of transforming it into sound right away, they have a base that can transmit such vibration to other objects and surfaces: just put them anywhere and the wow-effect is guaranteed! The sound will be amplified and spread on every direction, so even if you move around you'll still enjoy the best quality. The result can be very different depending by the surface you place the speakers on: for example, wood gives great bass while glass amplifies higher frequences.
The Vibe-Tribe Troll is the first of the three gadgets that we have been testing. With an elegant cylindrical shape and available in five different colors (black, silver, magenta, turquoise and golden-green), the Troll can fit on any desktop looking as a design object rather than a simple speaker. It has an internal battery with 4-5 hours autonomy that can be recharged connecting it to any USB port or charger. Simply connect the 3.5mm jack to any audio source (PC, MP3 player, smartphone, tablet, …), or use the built-in MP3 player to read files from a micro-SD card, or connect the audio/charging cable to enjoy the FM radio receiver. There's also an infrared remote control to switch track or change radio station. The Vibe-Tribe Troll is built in aluminum, therefore very strong and resistant and at the same time compact and light to be carried around with ease.
Similarly to the Troll, the Vibe-Tribe YoYo can function as remotely-controlled speaker, MP3 player via its microSD card slot, and FM radio – this time with integrated antenna, so no need to connect the cable. The YoYo is built in plastic, but this doesn't mean it's less strong than its cousins, and it's available in black or white, with a central LED ring that lights up with the sound. The white YoYo fits perfectly next to a Mac computer, it reminds some of its accessories, but its integrated antenna and its more flat shape make it even more portable.
Last but not least, the new-born of the Vibe-Tribe family is the Vibe-Tribe Ninja, with its unique design and available in five colors (dark silver, emerald, sapphire, ruby, amethyst). Differently from the other two speakers, the Ninja doesn't have a microSD card slot, nor it has an FM radio. It also lacks the internal battery, therefore it requires to be connected to the USB port of your computer (or wall/car charger) in order to work. Still, once placed on your desktop the sound experience is extremely compelling.
All the Vibe-Tribe speakers come into an elegant and resistant package, confirming that all particulars are taken care of. They can be a perfect gift, but it's also fun to collect them all and even to play with them to combine sounds in a creative and funny way:
Have a look at the Vibe-Tribe web site for more information, and purchase details: each products can be bought, among others, on all European Amazon stores for under €60 Euro! And look out for the Vibe-Tribe girls, they're touring all the major European cities to bring fun and sound to the most popular venues